Tips And Hints For Telephone Interview Virgins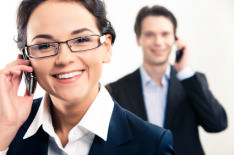 Telephone interviewing is a popular choice among recruiters at the pre-screening stage of the recruitment process, due to the fact that many candidates can be evaluated at a minimal cost to the company.  In recent years there has been a drop in permanent and temporary jobs in the UK, which indicates that there is a fierce competition for all types of jobs. It is therefore essential that you, the job seeker prepare thoroughly when given the opportunity to have a telephone interview.
These interviews are usually brief, lasting no longer than 30 minutes, so during this short time you have to give all you've got. It is useful to have your CV or application in front of you incase you are asked about it or you need to refer to it.  
BE A KNOW IT ALL
It is almost guaranteed that your knowledge of the company you are applying to work for will be tested. Find out as much as you can about the company in advance. Look at the history of the company, their products and services, what they are most proud of, what their best selling products are, what sets them apart from their competitors, what the size and structure of the company is, what the career prospects at that company are.
You also have to be clear on why you are applying for that particular role, meaning you need to find out as much as you can about the role in advance.  Having a pre-prepared answer to the questions 'What attracted you to this role?' and 'What makes you the best candidate for this position?' will help you during the interview.
CREATE THE RIIGHT IMPRESSION
First of all make sure that you are by the phone at the agreed time. Answer the pone by announcing your name and remain polite throughout the conversation. Speak calmly, clearly and succinctly without using any jargon. Listen to the questions asked carefully, you can even make a quick note of the question on your pre-prepared notepad incase you loose your thread while you are attempting to answer the question.
PLAN YOUR ANSWERS
Although interview questions differ from company to company there are some commonly asked questions for which you can plan your answer for.
What are your strength and weaknesses?

What are your main skills?

Where have you worked previously and what experience and skills have gained while working there?

Where do you see yourself in 5 years time?

What benefits/inputs can you bring to the company?

Tell me about a time when you had to motivate others / influence others opinion.

Tell ma about a time when you had to show initiative / had to take the lead / had to make a quick decision.

Tell me about a time when you had to work under pressure / had to deal with conflict.

Tell me about a time when you went beyond the call of duty or received a compliment.

Give some examples of team work.

What motivates you?

Tell me about the biggest challenges you had to face in your career.

What qualities do you bring to this position?

What have been your main achievements and disappointments and why?

Give me an example of a time when you had to use logic and problem solving skills.

Tell me about a time when you set a goal and you were able to achieve it.
Of course, the exact questions asked are unpredictable however if you think about all the above and talk to friends and acquaintances who had a telephone interview you put yourself in a winning position.
Tell your friends about this article on Facebook
AllCrawleyJobs is Crawley's dedicated recruitment website. We focus on helping people find jobs in Crawley and the surrounding area. If you are looking for a job in Crawley we hope you will find our website to be an invaluable tool to help you find that perfect job »
For employers looking to hire staff in the Crawley area we offer a very cost effective recruitment advertising solution.
Submit an Article
If you have advice to offer, why not submit an article and get some great PR in return.

Management Articles for Employers & Careers Advice for Employees
Submit an Article
If you have advice to offer, why not submit an article and get some great PR in return.